MediaRoo is a specialist media insurance broker who source, negotiate, and place media insurance coverage for their customers.
For over a decade, Andrew Leen (MD) has been looking after insurance requirements on behalf of UK-based businesses and individuals involved in the Film, TV, Entertainment, Creative, and Media industries.
THE BACK STORY
Andrew has been an insurance broker for more than 20 years.
Since 2005, he has specialised as a senior media insurance consultant, where he has helped countless clients – individuals, companies, trade associations and affinity groups – get a better deal for themselves, their businesses, and their members.
As well as negotiating and placing insurance cover for individual businesses, Andrew is skilled in designing exclusive insurance schemes for membership organisations and media industry groups, lowering the cost of insurance for members, and increasing benefits for the organisation.
He has also helped his production clients get their projects completed, and has assisted the wider media community by designing and creating new insurance cover that he has brought to market.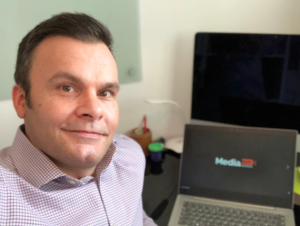 WHY WAS THE MOVO PARTNERSHIP A GOOD FIT?
Andrew was looking for a principal that cared about his business and who would be there as a critical friend and not just someone to tick the boxes. He is very close to the team and knows he can call on Movo at any time for advice and critical support.
MEDIAROO'S FEEDBACK ON WORKING WITH MOVO
"Having worked for corporate insurance brokers over the last (too many) years heading up media insurance teams, I spotted an opportunity to do something different.  Something where not every interaction with a client had to be measured financially.  I set up MediaRoo as a specialist media insurance broker, able to advise, educate, support, and connect those working in film and TV production and the associated trades.  We source insurance protection specifically for the media industry, although we have grown to help other types of businesses too.
In the three years we have been trading, we have used two different Principals (broker networks) to provide us with access to market, compliance, and accounts functions.  If you are thinking about joining a network of brokers, you should understand that not every proposition is the same. 
Since leaving our old network and joining Movo Partnership, it has been a breath of fresh air and we have seen a dramatic impact on our business.  Not only are the functions we now receive pro-active, but they are highly transparent.  The support we get from Movo is amazing – we even get a claims manager to help us with gathering information, putting together paperwork, and to help us get a quick settlement of our clients' claims. 
The fees we pay are fixed, so we know what the costs to our business are, rather than having to guess the impact as we grow.  We are free to deal directly with underwriters at the insurance companies, which means that response times are improved, and it also helps us to build better relationships with them, which helps us provide a better service to our clients.
If you really want to start gaining traction in your business, then you could do a lot worse than speaking to Movo.  We did."
LEA CHEESBROUGH'S COMMENTS ON MEDIAROO
"Andrew is passionate about his business and his understanding of complex schemes means we have the opportunity to work on a niche area and give Andrew the support he needs whilst learning about an industry sector that we haven't previously worked in at this level"
IN SUMMARY
As a network, we have a focus on commercial general insurance however we are open to supporting existing schemes and facilities as well as sourcing solutions for brokers' ideas or past experiences.